The build up to the holiday season is always so exciting. Once New Years passes and you get to that first week back on a normal schedule… that excitement is gone. In this technology filled world sometimes its hard to keep the memories alive. Sure, you probably take hundreds of photos to remember the events. Those photos probably are also shared on social media or through online photo albums, but ultimately, they are forgotten about until you stumble across them a few years later. What if there was a way to keep that excitement alive? Custom Framing is the answer!
Custom Framing Online
We know what you might be thinking,
"I would love to be able to get my holiday photographs custom framed, but finding a shop that won't cost a fortune and give me a high-quality finished piece is hard!"
We're here to tell you that it doesn't have to be hard. There is a way for you to get a custom framed piece without ever leaving your couch. Our Design a Frame feature was built with this particular predicament in mind, it specializes in Custom Framing Online. It takes you through each level of custom framing that you would go through at a framing shop, from the comfort of your home.
Picture/ Image
The first Design a Frame step is ultimately what prompted you to get a custom framed piece in the first place. In other words, The Photo! We give you the option to either upload a photo and have it printed or just order the frame and mat for an already printed photo. Your first step in the process is to enter in the image size. This can be the actual size of the image or your desired size of the image if you are having us print it. If you are having us print your image for you, the easiest way to determine the actual size of the image is to print it out on regular copy paper and measure it with a ruler or tape measure.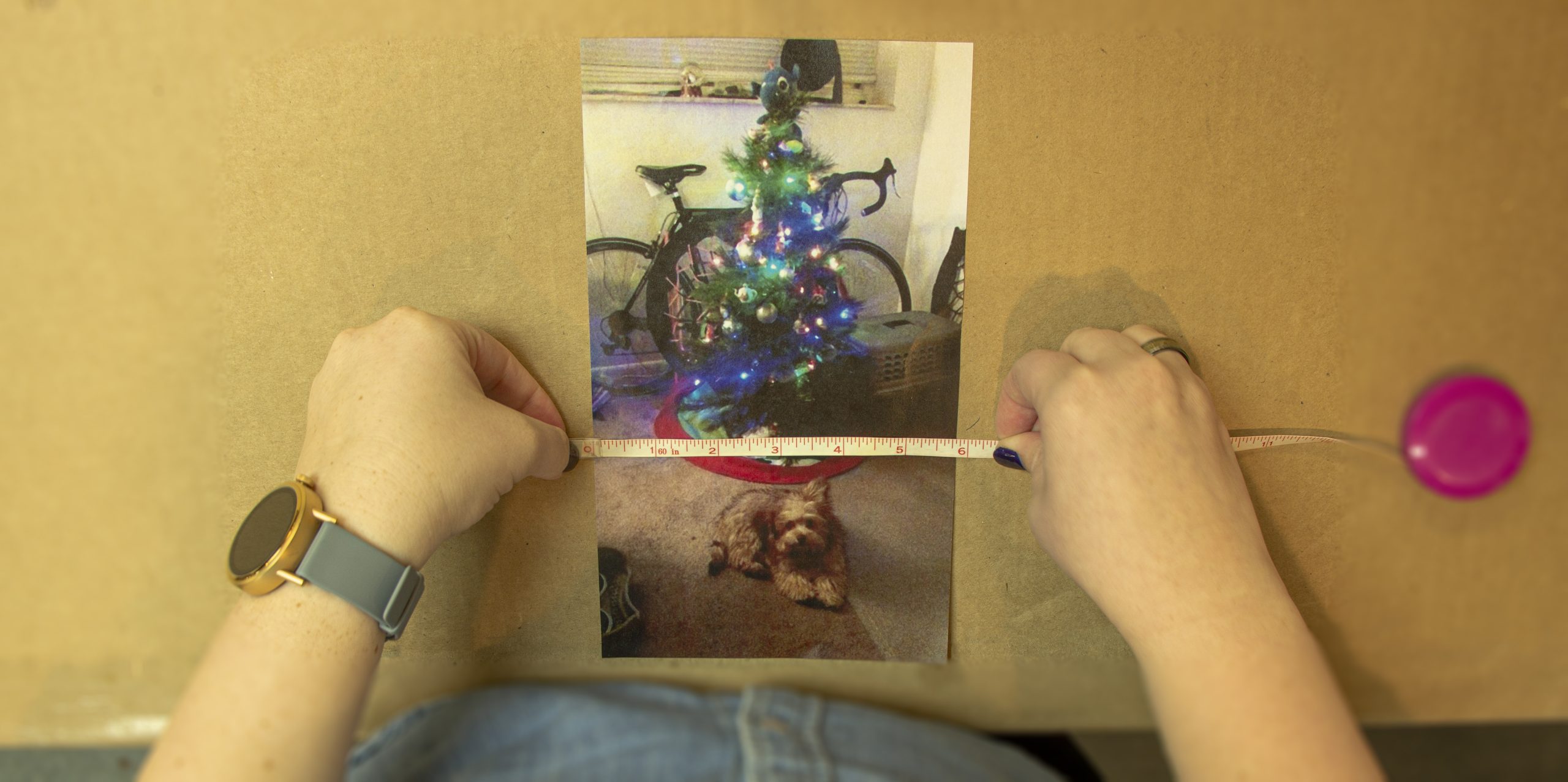 Once you have the image measured you will input that size into Design a Frame. If you are having us print your picture for you upload that image into Design A Frame. The orientation of your photo will determine which measurement goes in which box. For instance, this particular image measured at 5.75 wide by 11 inches tall. The length measurement is where you will put the height of your image and the width is the width.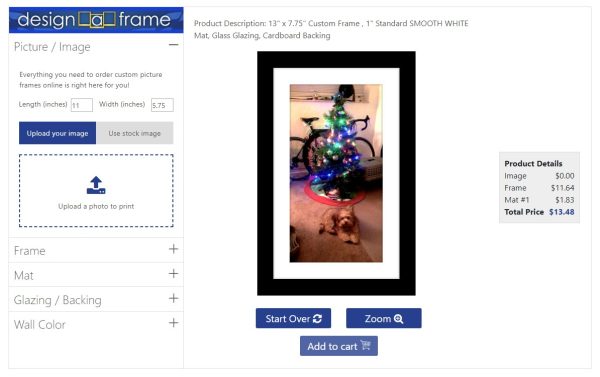 The best part about using our Design A Frame feature is that you only need to know two measurements—the measurement of the image you are framing and how wide you want the mat to be. The custom frame size is automatically formulated from those two measurements. Design a Frame defaults to a black frame with a standard 1" smooth white matte. The next step is for you to decide if you want to keep the default frame or choose a different option.
Frame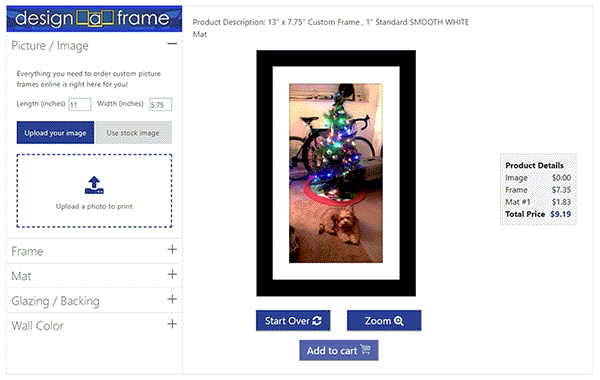 You have the options to filter by Metal, Poster or Wood Frames. If you have a specific color in mind you can also choose a color filter that will give you all the frames that have an option within that color family.
Mat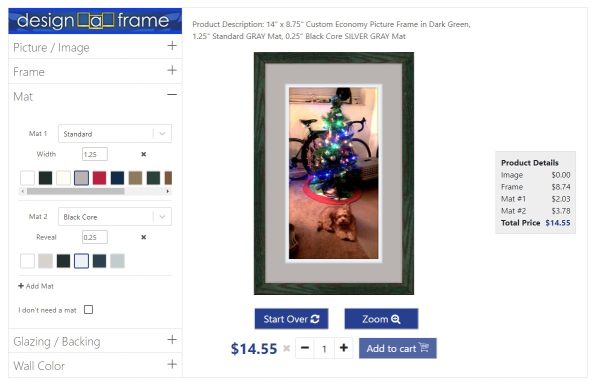 Once you have the perfect frame selected you will move on to your mat selection. We offer Standard, Premium, Black Core, Acid Free, and Suede mats in a number of different colors. During this part of the process you have to enter in how wide you want the mat and decide if you want to add a second or third mat as well as how much of them you want to be revealed. The default is 0.25".
Glazing/Backing
Once your mat colors are selected you will move on to the fourth and final step in the online custom framing process: Glazing and Backing. The particular glazing options offered are determined by the size of your overall frame. The three options available are Glass, Styrene, or Acrylic. Glass is only offered on frames that are 11×14 and smaller. The three backing options are white foam core, black foam core and the default Cardboard.  Once you have decided between them you are ready to add it to your cart and finalize your order!
Finished Masterpiece
You have now successfully made it through the online custom framing process. The next step is to find the perfect place for your finished masterpiece. Your new piece will serve as a constant reminder of your precious holiday memories whether sitting on a shelf or hanging on the wall.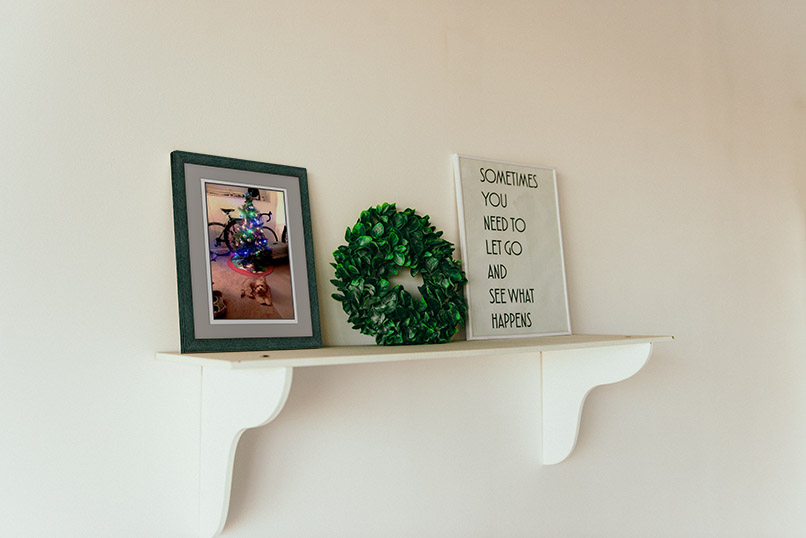 BONUS:
We have a Design A Frame sale going on RIGHT NOW. Use the coupon code MEMORIES for 15% off your order until January 9 , 2020 at 11:59 PM EST.